Industrial and Marine Products

Our main brand – Leading manufacturers and alternator suppliers of synchronous alternators 4 pole from 3.5kVA through to 5,000kVA and 2 pole alternators 5kVA to 2,000kVA.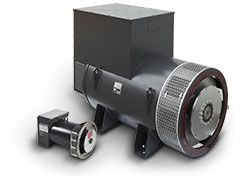 3.5 – 5,000kVA
1 phase brushless – capacitor for light towers
Slipring/Compound in 2 and 4 pole up to 24kVA
Brushless compound in 2 and 4 pole to 98.5kVA with AVR option
Brushless AVR in 2 and 4 pole to 5,000kVA
400Hz up to 200kVA
6 pole alternators
Specialised technologies
Variable speed
Permanent magnet generators
Generators for renewable applications (water and
wind turbine)
Mercurio DC system and hybrid systems for telecom applications 5kW to 15kW

Specialised Power Products

Focusing on MV and HV products for power generation and producing synchronous and asynchronous generators suitable for hydropower applications.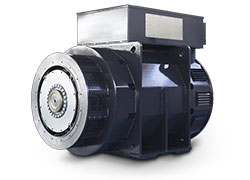 ---
Low, medium and high voltage alternators, designed for demanding applications
1 – 5MVA
LV – voltage up to 690V / MV up to7,200V / HV up to13,800V
Separate circuit-cooling by air or water is available
---
Hydropower alternators
Synchronous alternators up to 10MVA, 380 – 15,000V, up to 32 pole, water or air-cooled, horizontal or vertical mounting
Asynchronous alternators up to 700kW, low speed, water or air-cooled
D2G – permanent magnet generators, steady speed without invertor up to 500kW
---

Portable 2 Pole Products 1 – 17kVA

A company that specialises in the volume manufacturing of small 2 pole portable units 1.2kVA to 17kVA.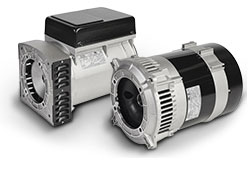 ---

1 phase brushless capacitor excited units with optional AVR or Brush + AVR


---

3 phase with slipring compound control or Brush + AVR


---

Welders and Specialised Products

A factory specialising in customised power solutions making tailor-made specialised alternators and welding generators.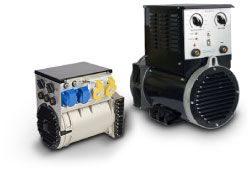 ---
2 and 4 pole welding alternators with auxiliary output AC 130-220A and 200-500A DC
---
Special products tailored to meet customers' requirements
---
Water-cooled, DC, lighting, totally enclosed, variable speed, short units
---